STRATEGIES FOR PROTECTING LARGE DATASETS USING BEST PRACTICES FOR NETAPP
---
---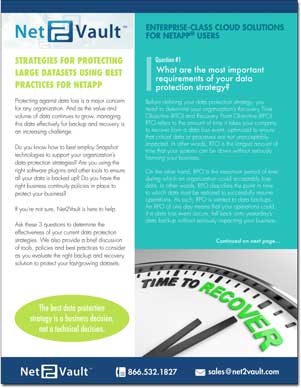 Protecting against data loss is a major concern for any organization. And as the value and volume of data continues to grow, managing this data effectively for backup and recovery is an increasing challenge. Ask these 3 questions to determine the effectiveness of your current data protection strategies.
Learn more...


COMPREHENSIVE DATA PROTECTION IS MORE AFFORDABLE THAN YOU THINK
---
---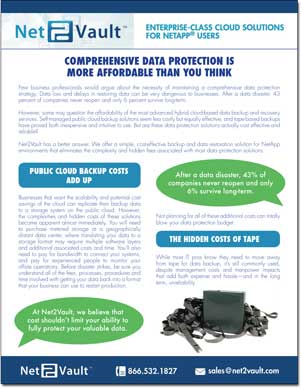 Few business professionals would argue about the necessity of maintaining a comprehensive data protection strategy. Data loss and delays in restoring data can be very dangerous to businesses. After a data disaster, 43 percent of companies never reopen and only 6 percent survive long-term.
Learn more...