← Insights Home
COMPREHENSIVE DATA PROTECTION IS MORE AFFORDABLE THAN YOU THINK
---
---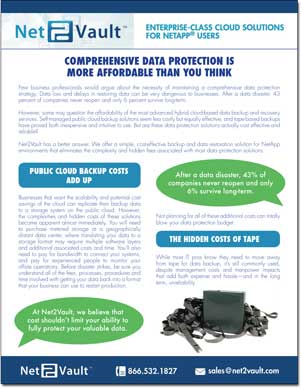 Few business professionals would argue about the necessity of maintaining a comprehensive data protection strategy. Data loss and delays in restoring data can be very dangerous to businesses. After a data disaster, 43 percent of companies never reopen and only 6 percent survive long-term.

However, some may question the affordability of the most advanced hybrid cloud-based data backup and recovery services. Self-managed public cloud backup solutions seem less costly but equally effective, and tape-based backups have proved both inexpensive and intuitive to use. But are these data protection solutions actually cost effective and reliable?

Net2Vault has a better answer. We offer a simple, cost-effective backup and data restoration solution for NetApp environments that eliminates the complexity and hidden fees associated with most data protection solutions.

PUBLIC CLOUD BACKUP COSTS ADD UP

Businesses that want the scalability and potential cost savings of the cloud can replicate their backup data to a storage system on the public cloud. However, the complexities and hidden costs of these solutions become apparent almost immediately. You will need to purchase metered storage at a geographically distant data center, where translating your data to a storage format may require multiple software layers and additional associated costs and time. You'll also need to pay for bandwidth to connect your systems, and pay for experienced people to monitor your offsite operations. Before disaster strikes, be sure you understand all of the fees, processes, procedures and time involved with getting your data back into a format that your business can use to restart production.

Not planning for all of these additional costs can totally blow your data protection budget.

THE HIDDEN COSTS OF TAPE

While most IT pros know they need to move away from tape for data backup, it's still commonly used, despite management costs and manpower impacts that add both expense and hassle-and in the long term, unreliability.

To safely store backup tapes requires a facility designed for this purpose, with a secure environment at the right temperature and humidity. Accessing tapes from offsite storage and then restoring the data from tape to your servers can take days if not weeks. That is, if your tapes are still in good enough shape for data extraction: Magnetic tape degrades over time, and is notoriously unreliable as a long-term storage medium.

COST-EFFECTIVE CLOUD-BASED DATA PROTECTION FOR NETAPP USERS

Net2Vault offers a simple, cost-effective backup and data restoration solution for any NetApp environment. We make it easy: You pay a monthly cost based on your average actual backup usage and don't have to worry about surprise fees if you require a data restoration. Net2Vault never charges to get your data back.

We offer straightforward pricing. Customers pay a monthly per-gigabyte fee for the average volume of actual data stored per month in our hybrid cloud. This is different from most competitors, who charge a fixed rate for data usage even if your usage is less than negotiated. Most importantly, Net2Vault does not charge for other variables such as bandwidth, backups or restores. The last thing you need during a disaster is to be surprised with fees and roadblocks that interfere with getting your operation back up and running. Before, during and after an event our engineers work with you to make sure you have what you need to ensure your business survives the crisis.

We also work with our customers in advance to determine and implement customized RPO (Recovery Point Objective) and RTO (Recovery Time Objective) strategies to meet their individual business requirements, so we know exactly how to react in case of a data loss event. If you do lose data, time is literally money. Net2Vault's disaster recovery professionals can have you running within hours of a disaster because we use NetApp to NetApp replication and keep your data in its native format. If your business continuity plan requires even faster recovery, you can run off our servers over a wide area network with both NAS and iSCSI block level storage.

Cost savings even extend to our support services. When you call Net2Vault for support you get a live expert every time, without waiting on hold or going through an endless series of automated prompts. And with Net2Vault, support is included in our cost, a marked differentiation with our competitors who would be only too happy to sell you a service and support contract to talk to an actual engineer.

At Net2Vault, our goal is to keep off-site data protection simple and cost-effective for our customers. Our data backup and recovery solutions lower the costs and complexities of safeguarding your data, while running on trusted technologies in a secure environment, so you rest assured that your business is protected even if disaster strikes.

Net2Vault does away with the complexity and hidden fees associated with most data protection solutions. Net2Vault never charges to get your data back.

To learn more about Net2Vault data backup and recovery solutions for NetApp storage environments, please contact us at sales@net2vault.com or 866.532.1827.