← Insights Home
The Net2Vault Difference
---
---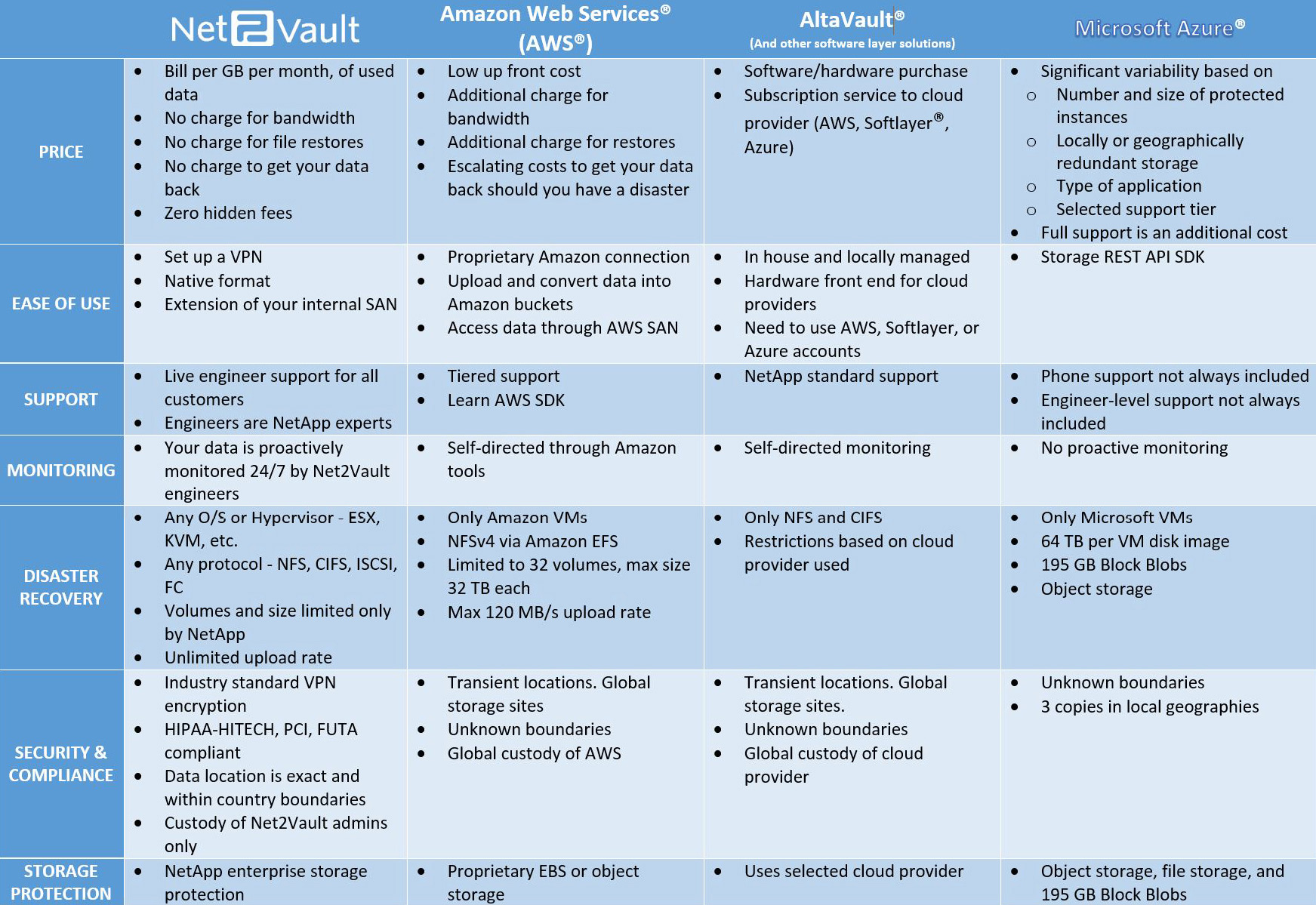 How We Compare to Others in the Industry


What We Do
Net2Vault provides native NetApp replication for backup and disaster recovery services. To date we have executed over 100 million replications. Clearly we are a leader, but you may still be wondering how we compare to the other leading options in the marketplace.
How We Compare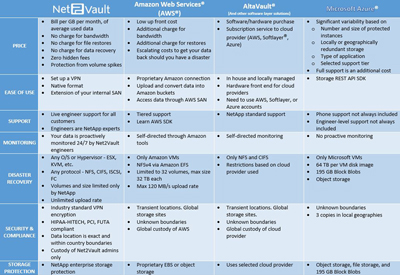 For this purpose, we have outlined our services and those of Amazon Web Services®, AltaVault® (and other software layer solutions), and Microsoft Azure® in the following chart to help you see how we stand apart in helping you build your company's backup and disaster recovery plan.
What Sets Us Apart
Often when you work with a large corporation, you're likely to lose some of the responsive customer service. This is true for the backup and disaster recovery industry as well, but spans past general customer service to real engineering support. At Net2Vault, this is part of what sets us apart. We know you have better things to do with your time than to sit on hold, be transferred, or have to navigate a seemingly endless string of automated prompts. When you call Net2Vault for support, you get a live expert every time. Give us a call or email our support alias and you will promptly receive a response from one of our expert engineers. And with Net2Vault, support is included in our cost. Our competitors can't say the same.
With respect to engineering, there are also limitations with most other services. For example, with Amazon Web Services, they only support NFSv4 via Amazon EFS. They also have limitations on data size and their max upload rate. Another example, AltaVault, only supports NFS and CIFS. If you have ISCSI, you are out of luck. With very few exceptions, we support any protocol and every operating system. Volume sizes are limited only by the NetApp hardware. If your NetApp supports it, so do we!
Another differentiator is our pricing model. You pay a monthly per GB fee for the actual volume of data stored. There are no hidden fees for bandwidth; none for file restores; none to get your data back. Our service is here to help you and your IT staff.
We Keep It Simple for You
Finally, as you do your comparison research, one fact that will become glaringly apparent is that if you go with one of the alternatives you will likely have to learn a new technology. From proprietary connections to additional software layers, you can almost guarantee you will need to put in a lot of work to use these technologies. We've found that adding additional complexity and overhead to an already crowded IT space is often actually less secure. It also burdens the staff who have to manage it. Every new technology comes with a whole new set of caveats, bugs, and vulnerabilities. We like to keep it simple, providing standard industry technology in a highly secure environment. You know exactly where your data is at all times and who has access to it. Who has time to figure out what a Block Blob is anyway? Simple in use, simple in pricing, a simple decision. If we can answer any questions for you or you'd like further information, please give us a call 503.445.8282 or email us at sales@net2vault.com!