← Insights Home
STRATEGIES FOR PROTECTING LARGE DATASETS USING BEST PRACTICES FOR NETAPP
---
---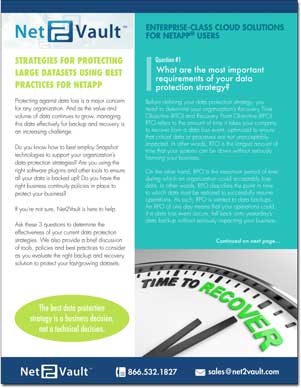 Protecting against data loss is a major concern for any organization. And as the value and volume of data continues to grow, managing this data effectively for backup and recovery is an increasing challenge.

Do you know how to best employ Snapshot technologies to support your organization's data protection strategies? Are you using the right software plug-ins and other tools to ensure all your data is backed up? Do you have the right business continuity policies in place to protect your business?

If you're not sure, Net2Vault is here to help.

Ask these 3 questions to determine the effectiveness of your current data protection strategies. We also provide a brief discussion of tools, policies and best practices to consider as you evaluate the right backup and recovery solution to protect your fast-growing datasets.

Question #1. What are the most important requirements of your data protection strategy?

Before defining your data protection strategy, you need to determine your organization's Recovery Time Objective (RTO) and Recovery Point Objective (RPO). RTO refers to the amount of time it takes your company to recover from a data loss event, optimized to ensure that critical data or processes are not unacceptably impacted. In other words, RTO is the longest amount of time that your systems can be down without seriously harming your business.

On the other hand, RPO is the maximum period of time during which an organization could acceptably lose data. In other words, RPO describes the point in time to which data must be restored to successfully resume operations. As such, RPO is related to data backups. An RPO of one day means that your operations could, if a data loss event occurs, fall back onto yesterday's data backup without seriously impacting your business.

Both RTO and RPO are critical elements of a data protection strategy, and it's important to note that whether your data protection strategy is tuned to favor your RPO or RTO is a business, not a technical decision. Both RPO and RTO have a cost, and the more aggressively (i.e., shorter timeframes) they are defined, the more expensive they become. An RPO of 15 minutes is possible, but more expensive than a 24-hour RPO. Your data would need to be very valuable to justify the expense.

Which leads us to NetApp Snapshot technology. SnapMirror enables data replication from one system to another, and is commonly used in disaster recovery plans since it allows scheduled and incremental data replications to be sent to offsite locations. A SnapVault backup is a collection of Snapshot copies of the entire source data being protected; you can use a SnapVault backup to restore data if your primary data is not usable.

If your business's primary concern is an aggressive RPO, your data protection strategies should focus on SnapMirror solutions to ensure frequently updated data at your secondary site. If long-term retention or keeping a ™golden copy™ of your data that you can also use as a recovery source is your goal, then consider SnapVault as the best fit for your RPO.

How you tune these two data backup and replication technologies to optimize data protection for your organization is once again a business, not a technical, decision.

For instance, if you set your RPO levels aggressively, your storage solution can remain so busy mirroring data that it impacts the system's overall ability to serve data for production.

Establishing the right RTO and RPO to support your data protection strategy is critical, with far reaching consequences in case of data loss events. Likewise, tuning NetApp SnapMirror and SnapVault technologies to support your RTO and RPO can be challenging. Unless you're a data protection specialist, getting it right can be tricky.

Net2Vault can help you hone your data protection strategies. We can help you define your data protection priorities and fine-tune your Snapshots to make sure your production requirements are not impacted.

Question #2. How well do you know your dataset and where your data resides? Is your data protection strategy actually capable of achieving backup and recovery?

One of the first considerations of your data protection strategy should be managing the size of your backup dataset. Not only is backing up non-critical data an unnecessary expense, but large backups can also take longer to recover.

Developing and enforcing data retention policies can help determine what data you are backing up and how long you retain it. Many organizations need to comply with external mandates that regulate data retention (for instance, HIPAA in the healthcare field or SOX in the financial industry) or face internal governance requirements that compel data retention. However, limiting data retention and backups to business critical data will save money on both local and secondary backups and reduce headaches if a restoration is required.

Knowing where all your data lives, what formats it's stored in, and how it is backed up is also important. Modern datacenters are complex environments, and chances are good that your data is stored on a mix of servers, databases, virtual machines and cloud applications. If some of your data is not being saved locally and is stored in cloud apps (such as Office 365, Google Docs or Salesforce.com), on proprietary databases (Oracle) or on virtual machines, it may not be available for backing up and could be lost during system outages. Backing up data from cloud or virtualized environments is certainly possible, but it requires specialized tools and work-arounds to ensure that a copy of the remote data is stored locally and made available for backup. Keeping up with changing backup guidelines for cloud apps and the latest backup technologies for virtualized data is challenging even if you're a data protection expert. If you're not, chances are good that there is a gap in your coverage.

Net2Vault can help. We will work with you to ensure you have the right policies and practices in place to save your NetApp data locally and make it available for backup in the Net2Vault cloud.

Question #3. Do you really want to own the management of your data protection solution in-house?

In most organizations, backup and disaster recovery management is typically just a small part of what IT teams are responsible for. How much of a data protection expert can you be if you spend just a fraction of your time doing it?

In addition to the complexity of keeping up with fast-evolving technologies, there's the cost. Many data protection strategies call for duplicate investments in costly servers and networking hardware. However, capital expenses are increasingly hard to justify in today's IT environment. Also, storage environments are often a mix of hardware brands, each with their own software. Can you be an expert at each?

Net2Vault helps NetApp users meet their data protection requirements by offering seamless integration of production, recovery, consulting and business continuity management. We specialize in NetApp so you can lean on our expertise with Data ONTAP, in both 7-mode and cluster mode. Data backup and recovery for NetApp storage environments isn't just our specialty, it's all we do. So we're very good at it.

Our advice: Let us manage your data protection needs and free your IT staff to focus on mission critical business. You'll also free up valuable cap-ex dollars that would otherwise go into hardware storage equipment. We take the stress and worry out of data backup and recovery with a comprehensive solution that meets your governance, risk and compliance requirements.

To learn more about Net2Vault data backup and recovery solutions for NetApp storage environments, please contact us at sales@net2vault.com or 866.532.1827.

NETAPP, the NETAPP logo, and the marks listed at www.netapp.com/TM are trademarks of NetApp, Inc.