← Insights Home
TOP 3 ADVANTAGES OF HYBRID CLOUD DATA PROTECTION
---
---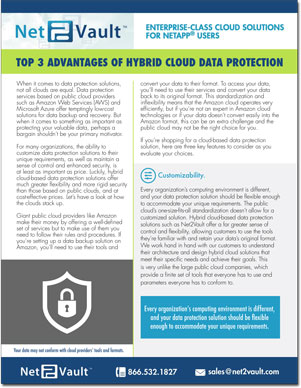 When it comes to data protection solutions, not all clouds are equal. Data protection services based on public cloud providers such as Amazon Web Services (AWS) and Microsoft Azure offer temptingly low-cost solutions for data backup and recovery. But when it comes to something as important as protecting your valuable data, perhaps a bargain shouldn't be your primary motivator.

For many organizations, the ability to customize data protection solutions to their unique requirements, as well as maintain a sense of control and enhanced security, is at least as important as price. Luckily, hybrid cloud-based data protection solutions offer much greater flexibility and more rigid security than those based on public clouds, and at cost-effective prices. Let's have a look at how the clouds stack up.

Giant public cloud providers like Amazon make their money by offering a well-defined set of services but to make use of them you need to follow their rules and procedures. If you're setting up a data backup solution on Amazon, you'll need to use their tools and convert your data to their format. To access your data, you'll need to use their services and convert your data back to its original format. This standardization and inflexibility means that the Amazon cloud operates very efficiently, but if you're not an expert in Amazon cloud technologies or if your data doesn't convert easily into the Amazon format, this can be an extra challenge and the public cloud may not be the right choice for you. If you're shopping for a cloud-based data protection solution, here are three key features to consider as you evaluate your choices.

Customizability.
Every organization's computing environment is different, and your data protection solution should be flexible enough to accommodate your unique requirements. The public cloud's one-size-fits-all standardization doesn't allow for a customized solution. Hybrid cloud-based data protection solutions such as Net2Vault offer a far greater sense of control and flexibility, allowing customers to use the tools they're familiar with and retain your data's original format. We work hand in hand with our customers to understand their architecture and design hybrid cloud solutions that meet their specific needs and achieve their goals. This is very unlike the large public cloud companies, which provide a finite set of tools that everyone has to use and parameters everyone has to conform to.

Ease of use.
We're delighted to say that no additional training or certification is needed to use our services. If you're familiar with NetApp tools and processes, then you already know all you'll need to know to utilize Net2Vault data protection solutions. Anything that our customers are currently doing with NetApp can be accommodated by our backup and recovery services. Our solution backs up your data in its native format, so if you do lose data and require recovery, your backup will arrive with your data in the format you can use immediately, without the need to convert from a proprietary format. With Net2Vault, you don't have to become an expert in data backup and recovery technologies. We work with you to learn your requirements and what problem you're trying to solve. After we set up your customized solution, you don't have to worry about it again. We manage your data protection needs and free your IT staff to focus on mission critical business. We take the stress and worry out of data backup and recovery with a comprehensive solution that meets your governance, risk and compliance requirements.

Security.
Most data losses are user generated, not brought on by natural disasters. User error is the greatest risk, and here's where a hybrid cloud offers another advantage. Hybrid cloud environments are an extension of existing technologies and familiar software, which means that hybrid platforms are much better understood than the new public cloud environments, which require a completely new toolset to manage. Unless you're an expert at public cloud management, the chance of a misconfiguration (with the threat of an unplanned data exposure) is far greater with unfamiliar technologies than with the tools that you use every day. And with do-more- with-less pressure in many IT teams, backup and disaster recovery management is typically a small part of the team's responsibilities. How much of a public cloud expert can you be if you spend just a fraction of your time managing these environments?

Physical security is another factor that differentiates public and hybrid clouds. Many organizations have data governance requirements that demand that they know where their data is located geographically and who has access to the it. For instance, many organizations in Europe require that their data be physically stored within European Union boundaries, or even within national borders. Other organizations have rules that dictate the nationalities of employees who have access to their data. These are requirements that public clouds cannot address due to the distributed nature of the public cloud. However, because hybrid cloud environments are much smaller than the public cloud, they can be customized to enforce geo restrictions and other physical security mandates.

At Net2Vault, our goal is to offer NetApp customers data protection solutions that are simple to use, flexible and secure. Net2Vault solutions minimize the complexities of safeguarding your data, while running on trusted technologies in a secure environment, so you rest assured that your business is protected even if disaster strikes. And with a fully transparent pricing model like Net2Vault's, you can accurately estimate the cost of a hybrid cloud solution – it may be a lot less than you think, especially when you consider the advantages.

To learn more about Net2Vault data backup and recovery solutions for NetApp storage environments, please contact us at sales@net2vault.com or 866.532.1827.

NETAPP, the NETAPP logo, and the marks listed at www.netapp.com/TM are trademarks of NetApp, Inc.