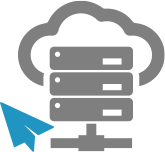 DON'T WORRY, WE'VE GOT
YOUR BACKUP
Net2Vault manages your backups, retention and replication in a secure, multi-tenant architecture, while you enjoy the ability to access and utilize your data when you want. We meet your governance, risk, and compliance requirements for data security, and protect confidential data during short-term storage or long-term archiving.
AVOID CAPITAL EXPENDITURES,
REDUCE ADMIN COSTS
By integrating your NetApp storage arrays with ours, you eliminate the up-front capital expenses of purchasing a secondary NetApp system. Let us manage your backups and free your IT staff to focus on mission critical business.
DATA IN NATIVE FORMAT
By utilizing native NetApp tools, we are able to store your data in the form you use it. Our technology seamlessly integrates with your NetApp storage arrays using SnapMirror and SnapVault data replication. No tape, just your data in the form you use it, available when you want it.