Part 2 of Net2Vault's
Enterprise-Class Cloud Solutions for NetApp Users
series
COMPREHENSIVE DATA PROTECTION IS MORE AFFORDABLE THAN YOU THINK
---
---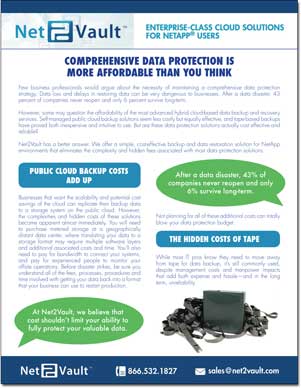 Few business professionals would argue about the necessity of maintaining a comprehensive data protection strategy. Data loss and delays in restoring data can be very dangerous to businesses. After a data disaster, 43 percent of companies never reopen and only 6 percent survive long-term.
Learn more...


Part 1 of Net2Vault's
Enterprise-Class Cloud Solutions for NetApp Users
series
TOP 4 ACTIONS TO LOWER YOUR RANSOMWARE RISK
---
---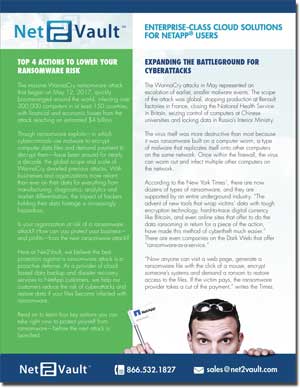 The massive WannaCry ransomware attack that began on May 12, 2017, quickly boomeranged around the world, infecting over 300,000 computers in at least 150 countries, with financial and economic losses from the attack reaching an estimated $4 billion.
Learn more...